Update 02.11.15: More gratitude to all who has helped Rob through this transition in all kinds of ways. The fundraising campaign was a success! Rob's out of pain and recovering in Montana. Thank you!
Update 11.24.14: Thank you to everyone who has contributed! 
We are so grateful to have achieved Robs initial goal of $5000. Can you help it surpass $6000 in the next week?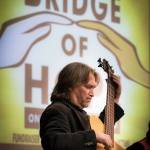 Rob Kohler has just had a major operation on his hip. As many of you know, Rob has been unable to walk properly/normally for many years. Finally, on October 14th 2014 Dr. Bonfilio of Great Falls MT. performed successful hip replacement surgery. He is able to stand on 2 feet and walk normally for the first time in years.
Unfortunately, bills have incurred and Rob has had to move to Great Falls without the possibility of a steady job.
A number of friends have told Rob they would like to help, so here it is... we are appealing to Rob's many friends, students and fellow musicians for financial help. This has been extremely difficult for Rob to ask you, so we are doing it on his behalf. Please help this wonderful musician and human being.
Click this link and you will be taken to our fundraising site on giveforward. Any amount will be appreciated!
Thank You for giving and for spreading the word!
Here's Rob playing the bass